Capoeira Arts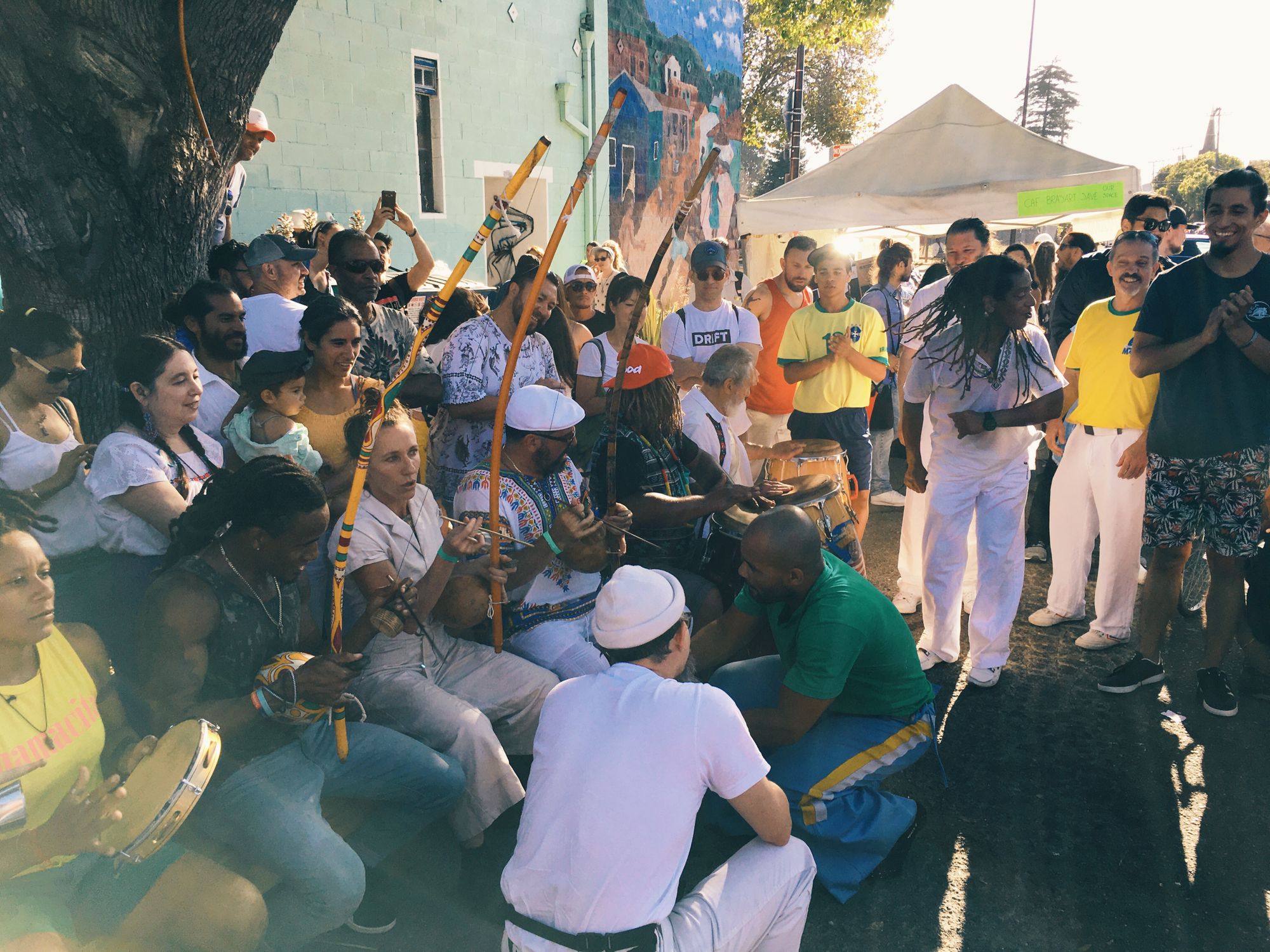 Nuria's relationship to Capoeira has been conditioned by her experience and her circumstances. She has had the incredible privilege to study under the Master tutelage of Mestere Acordeon, Mestre Ra, Metra Suelly and many other great and experienced lineage holders. Nuria is committed to bringing who she is to the art of Capoeira, while holding respect for traditions and customs that are essential to the form.
Nuria has invested decades of serious study in many movement art forms as well as the nuts and bolts and loftier concepts of human anatomy and physics. Whoever gets to study whatever she is offering is in very good, experienced and inspired movement hands. She is forever curious and sincere, keen of eye and steeped in knowledge. Nuria, known as Contramestra Marreta in capoeira, teaches well this art, from its foundations to its history, music, philosophy, and her own well- studied and experienced knowledge of how the body most healthily works. She is excellent in teaching movement concepts and dealing with prevention and recovery of injuries. Enjoy her unique but grounded in capoeira approach.
-- Suellen E. (Mestra Suelly)
Nuria was introduced to Capoeira in 1995 with Joao Grande and began training seriously in 1997 with Mestre Galo (then professor) of UCA. In 1998 she moved to Berkeley to study with Mestre Acordeon, Mestre Ra, and Mestra(then profesorra)Suelli. Nuria a.k.a. Contra Mestre Marreta, began teaching classes in 1999 at the Capoeira Arts Cafe. Her first trip to Brazil was in 99, and then she had subsequent trips in 2000, 2003, 2009, and 2010 studying with Mestre Gato, Mestre Marrom, Mestre Mago, Mestre Suassuna, Mestre Cobra Mansa, Mestre Valmir, and Mestre Panao. Nuria had her Formatura, or graduation to the level of professora, in 2005, when she was pregnant with her second child. In 2013 Nuria was honored with the promotion to Contramestra by Mestre Acordeon and Mestre Suelli (United Capoeira Association).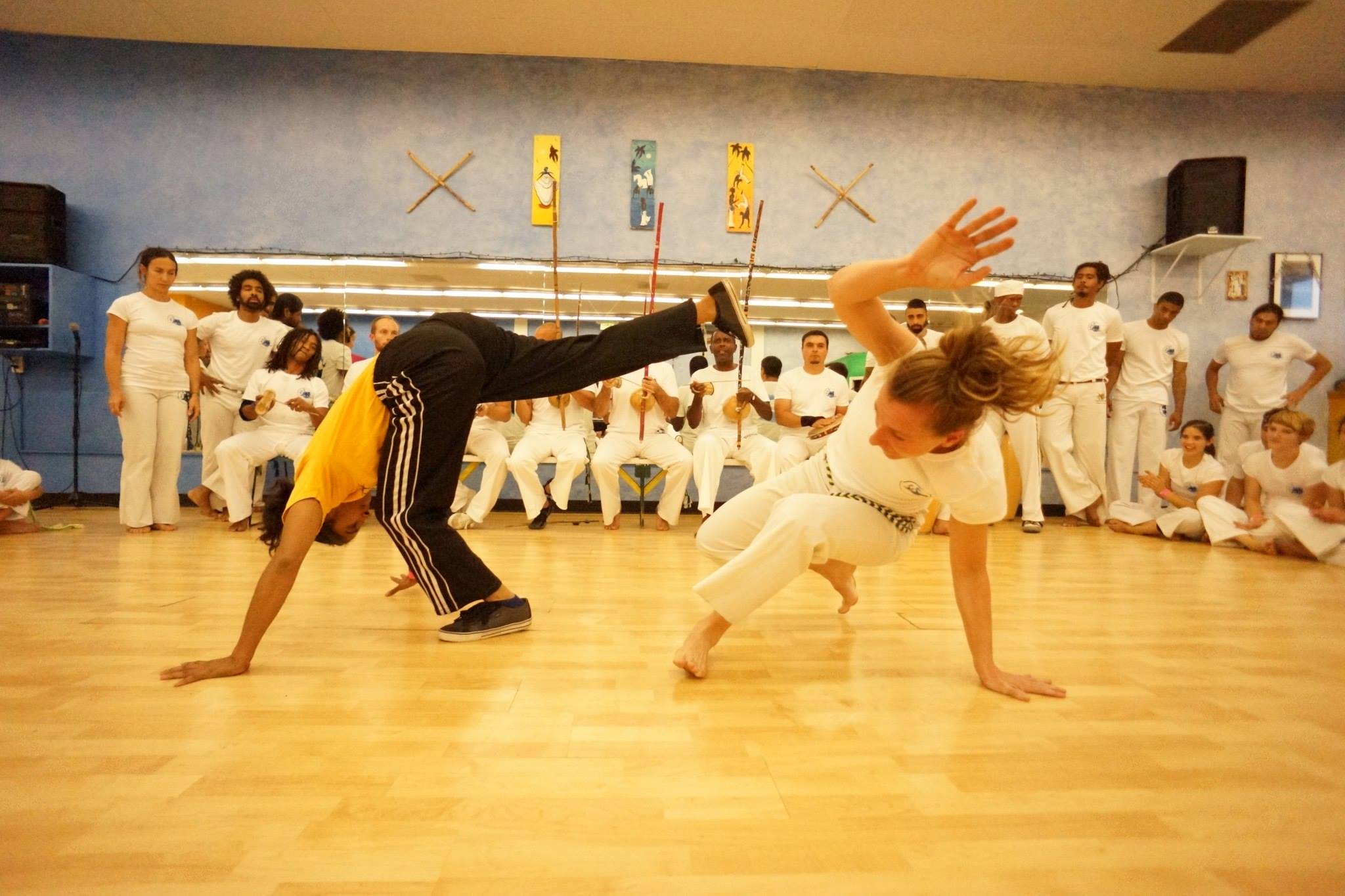 Since the late 1990s Nuria ("Marreta") has been a respected practitioner and teacher of capoeira (an afro-brazilian martial art). She is known for the deep expressiveness, improvisation, and communicative quality of her games. She enjoys teaching Capoeira to all ages. Throughout the study of Capoeira much of the range of human movement is possible. As a teacher of the Axis Syllabus, Nuria will often apply this movement syllabus to her teaching of Capoeira. Capoeira provides the opportunity to cultivate skills of ramping, going upside down, elastic recoil, coordinating ones own body weight in and out of the floor, circular and straight kicking, defenses, a circular mindframe, musical sensitivity and expression, listening and responding to an organism, and cultivating ego awareness. Even more significantly Capoeira provides the opportunity and practice of a community ritual, involving movement, music and song. The Roda (wheel in Portuguese pronounced hoe-da) is an opportunity to hold space for others, play music, challenge and be challenged, sing, create a vibe, and take risk while being supported and witnessed by your community. You can fight or you can dance, and preferably a bit of both.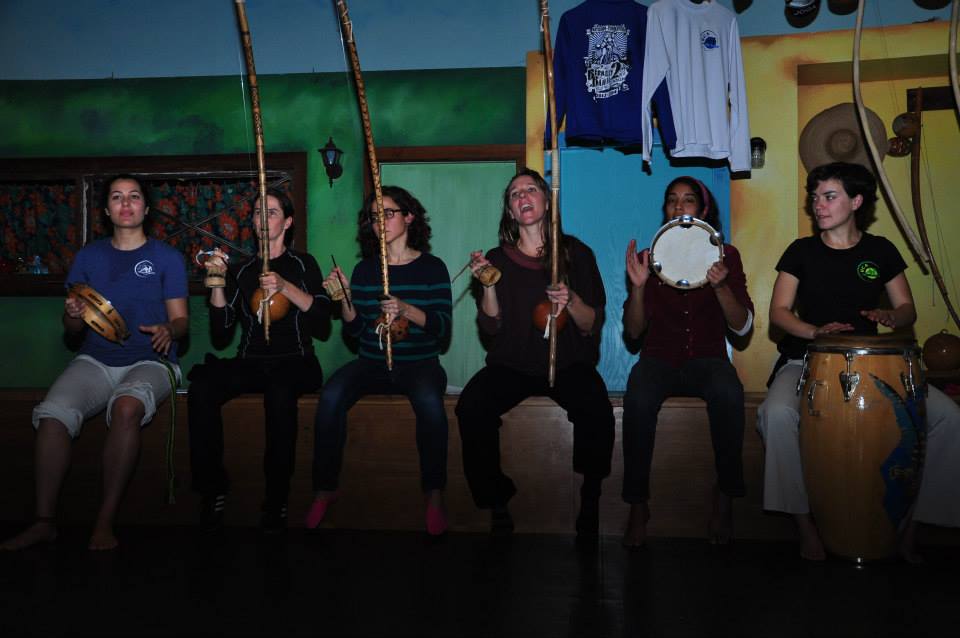 Nuria believes there is room for an increase of mothers, and female leadership within Capoeira , that through the consistent contribution of females in Capoeira, and specifically in positions of power, the art form will be strengthened in a way that we all can be proud of. Nuria is a white American woman, not a Brazilian. While she deeply appreciates Brazilian culture she is not trying to emulate it, yet she is entrusted to share the movement games and rituals that she has learned from her teachers, who are almost all (with the exception of Mestra Suelli) Brazilian. Yet the art form of Capoeira has its roots in the Yoruba Culture,from West Africa and the Congo in origin. Still, in my opinion, many of the practices are so primary to the human spirit, that they can transfer beyond culture, and deliver their message straight to the human organism. This is exemplified with just how capable Capoeira is at transplanting into every culture all over the globe. Nuria sees her specificities contribution to this art to come from her focus on the inherent intelligence of the body displayed by its design. Nuria is interested in how Capoeira offers the ritualized challenging and playful human interactions that support the increase of awareness, sensitivity, humility, relational intelligence, respect, a deep sense of rhythms and a deep cultivation of power not only through ones increased abilities, but largely through the network of community.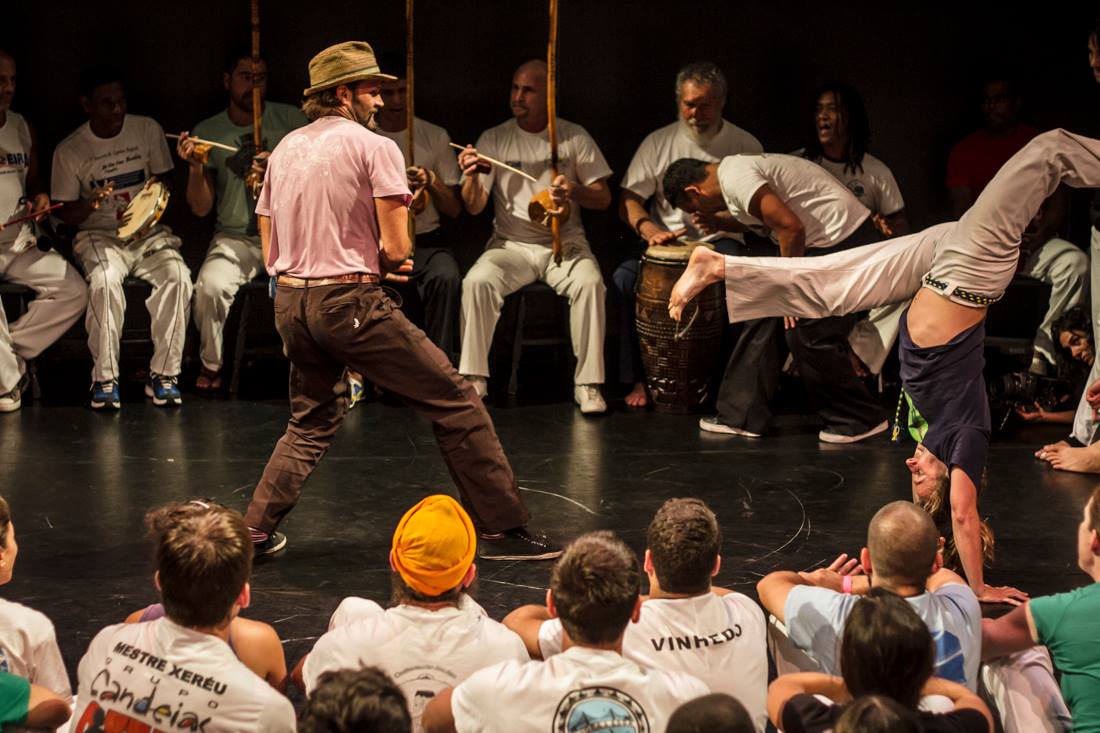 Personal Statement
In the world of Capoeira many of us have nicknames. I am knows as Marreta: Sledgehammer. A good nickname makes fun of your strength and weakness. It looks like I can wield some force. However, my focus within Capoeira is more within the expressive and interactive side, as well as the musical and performative sides. I am interested in the development of awareness and skillful movement. I am interested in witnessing the ego and Capoeira as a practice for conditioning humility, strength and flexibility, playfulness, musicality and creativity.  Recently I find myself particularly interested in how to guide students and teachers towards a greater physical and anatomical understanding that informs the Capoeira game. I believe that Capoeira is an art form that contains within it an incredible amount of wisdom and physical intelligence. I am interested in learning from this, without overtraining or falling foolishly into the trap of unsustainable masochism, I want to inhabit the intelligence of the spirals within the universe and the challenges of interaction. I believe that Capoeira can teach me this. I am interested in how women in leadership roles will help to inform and grow the culture of Capoeira.
I am grateful to all of my teachers in Capoeira: Mestre Acordeon, Mestre Ra, Mestra Suelly, Mestre Calango, Mestre Amunka, Mestre Galo, Mestre Amen, Mestre Lobao, Mestre Gato, Mestre Mago, Mestre Effraim, Mestre Marrom, Mestre Nestor Capoeira, Mestre Itapoan Beiramar, Contra Mestre Dondi, and on and on and on and all who have come before me to make it possible for me to get to know this art form.