Dance & Performance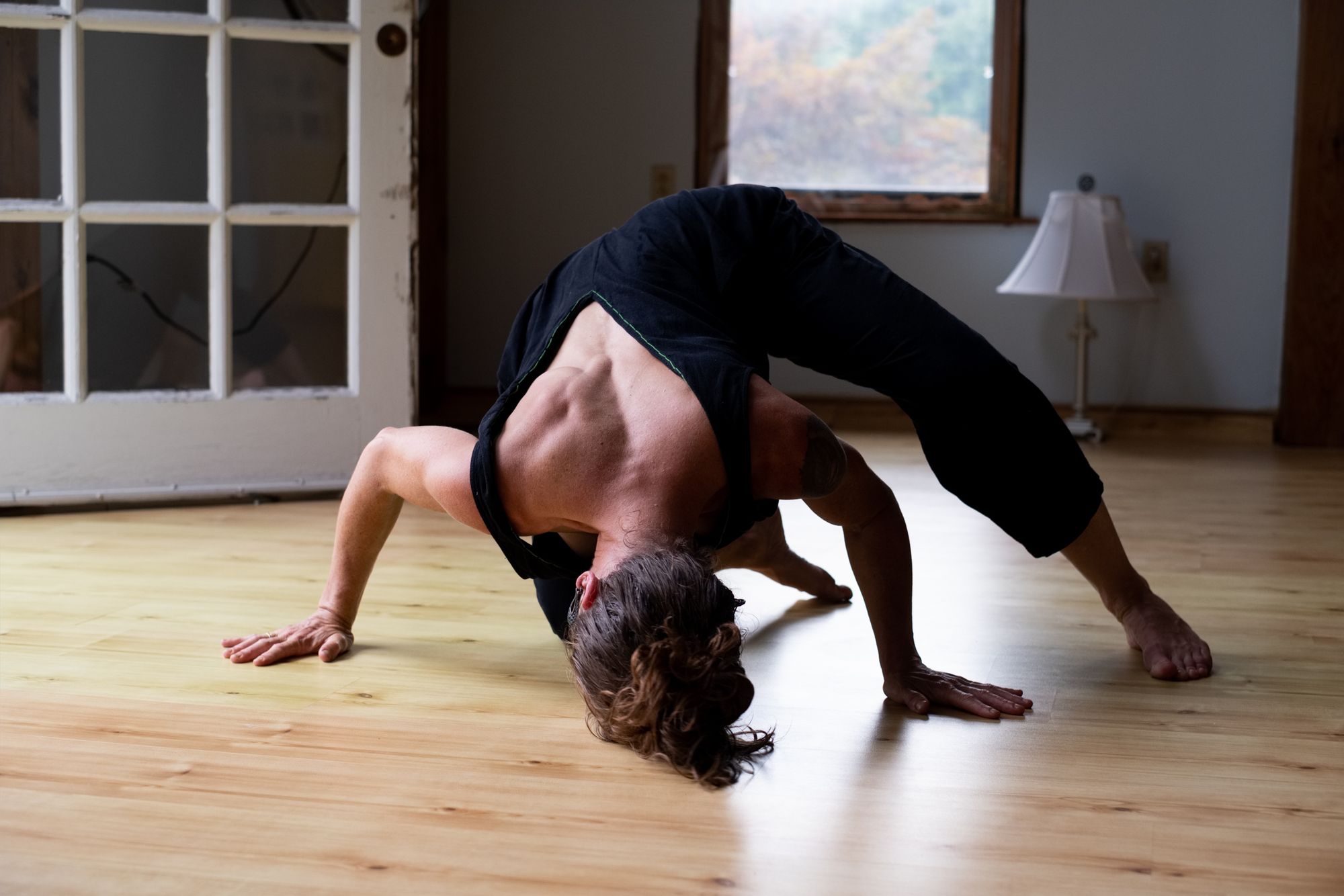 Nuria dances professionally, for pleasure, and in prayer. She has been dancing her whole life and began her choreographic career as a child directing friends at sleepovers. She engaged since childhood studying and cultivating the skill of sensing and moving with rhythms, for both healing and expression.
After taking dance classes at an early age she was introduced in high school to Contact Improvisation (CI) and Authentic Movement by Neige Christenson. Since then her main focus has been the study of improvisational, choreographic, and interactive movement forms including CI, contemporary dance, Afro-Brazilian movement arts, and Body Music.
Nuria's professional career began during a year off college in 1993-94, when she traveled to New York City. She studied with artists such as David Zambrano and Susan Klein, performed locally, and produced her first evening length choreographic work, Beneath the Skin. It was also in those years that she experienced her first dance-related injuries and consequently was introduced to Rolfing.
Nuria continued studying and training dance in New York and Philadelphia. She was particularly inspired by the work of artists like Renne Harris (Pure Movement), Ruth Zaporah (Action Theater), Doug Elkins, and Nancy Stark Smith.
After graduating from Bryn Mawr College in 1996 with a degree in Performance Studies, Nuria moved to Boulder, Colorado and became involved in capoeira. Relocating to the San Francisco Bay Area in 1997 marked a shift as Nuria delved deeper into Afro-Brazilian movement arts. She performed and studied with Conceicao Damasco and the group Corpo Santo led by Bira Almeida (Mestre Acordeon).
Nuria continued dancing professionally in the Bay Area and had the honor of working on productions with companies like Capacitor, Mystic Family Circus, and Dreamtime Circus. From 2006-2011, she co-directed the Burley Sisters choreographic collective, a burlesque group of about 15 women focusing on retelling the story of female sexuality through physical comedy and acrobatics. In 2007 Nuria began her involvement with Body Music, working with artists Keith Terry and Evie Ladin as part of the Slammin' All Body Band, MoToR, and Corposonic. She has also worked on multiple productions with renowned choreographers Scott Wells and Kim Epifano. Other artists Nuria has worked within the Bay Area include C.K. Ladzepko (West African music and dance), Hiroko Tamano (Butoh), and Sam Stone and Rosemary Hannon (contemporary dance).
Nuria's movement art is deeply inspired by her teachers from the Axis Syllabus world: dancers Kira Kirsch, Frey Faust, and Francesca Pedullà.
Some of her main influences in the world of Contact Improvisation are Ray Chung, Kira Kirsch, Nita Little, and Keith Hennessy.
At the Field Center in Vermont where she is currently based, Nuria is focused on improvisational and spontaneous creation as an integral aspect of daily life.